Long thought to be a myth, the VIKING SHE-TIGER, who roams Northeast High School looking for a Friday night date, has been proven to really exist by these photos from brave (?) Nor'easter staff photographers.
To this day, any young male walking the halls of Northeast High, is told to always look on top of the bookcases. For it is believed that the VIKING SHE-TIGER, code named "SHIRLEY", is still roaming the school looking for a Friday night date.
Crouching on top of one of the
bookcases, the Viking She-Tiger
prepares to leap and pounce
on an unsuspecting victim.
"Now, I've got you!"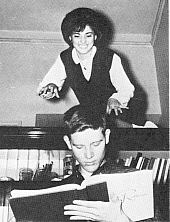 Nor'ester 1964
A student sees what is about
to happen and shouts a warning.
"Oh, Oh! It's the
Viking She-Tiger!"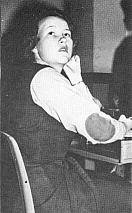 1964 Nor'easter
Another student sees what is
about to happen and is too
horrified to look.
"Oh, no! I can't look!"
1959 Nor'easter
Too Late. Another
victim hits the books.
"That'll teach you not to
go out on a Friday night
date with me!"
(picture below)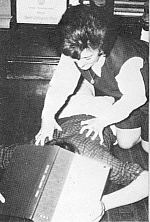 1966 Nor'easter
One student, who was interviewed
by a "Courier" reporter, was appalled
at what had just happened.
"I am absolutely shocked that
something like this could
happen at Thou Dear!"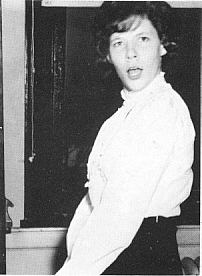 1963 Nor'easter
The NORTHEAST BATMAN offers to help find
the culprit. He was turned down because
as you can see, he seems to be two
credits short of a full school load.
"To the Batpoles, Robin!"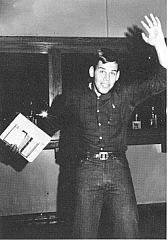 1966 Nor'easter
One of the older generation
expresses her disgust.
"These shameful acts must
not be allowed to continue
at this fine institution."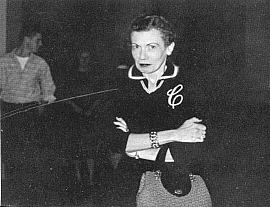 1959 Nor'easter
Jacque Brohman, the famous French
Zoologist, was asked his opinon. He stated,
"Vous, definitely have les problem!"
"Parley vous, Francais?"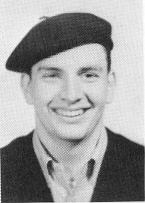 1966 Nor'easter
Northeast B-Western movie star,
Gabby Hayes, wanted to help,
but had to do a Western with
ROY and DALE.
"Yessiree, Bob! Yer durn tootin!"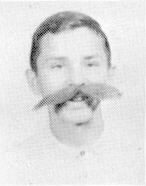 1966 Nor'easter
In desperation, the GREAT WHITE HUNTER for
Thou Dear was called in. But, he didn't want to go
after the perpetrator. Something about how he was
the "Nor'easter" sponsor and had a reputation to
maintain. I'm not going to mention Mr. Swoboda's
name because it might be too embarrassing.
"Me Great White Hunter. You must be Jane!"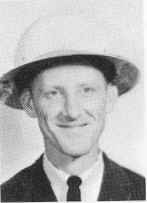 1966 Nor'easter
Some of the guys dress as
Cheerleaders to avoid the
Viking She-Tiger.
"Do I look fat in this skirt?"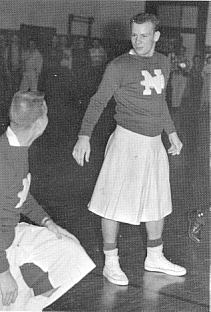 1959 Nor'easter
Not everyone is against
the Viking She-Tiger,
like this Cheerleader.
"Get him, girl! Get him!"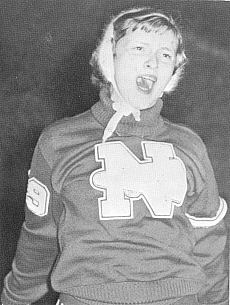 1959 Nor'easter